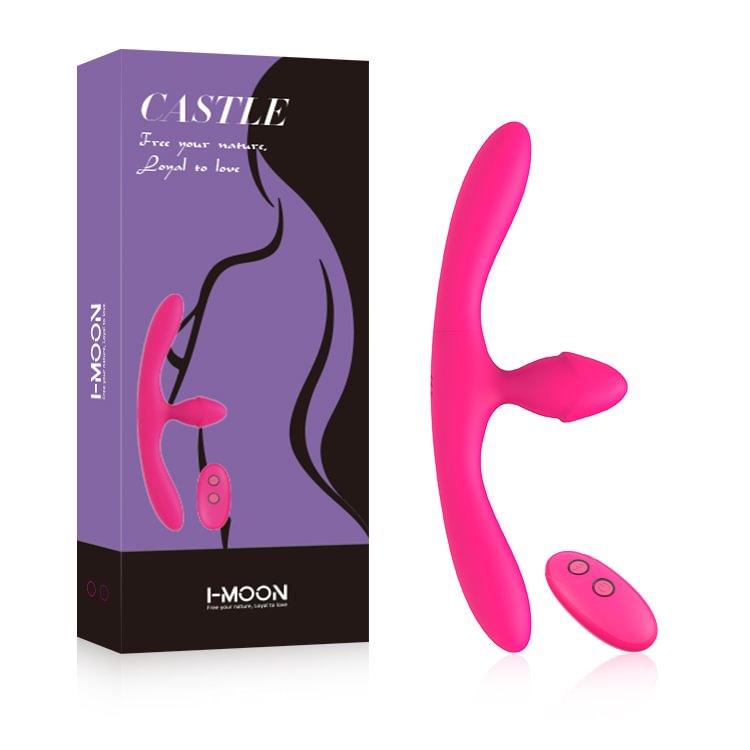 This is a very innovative lesbian sex toy. It is designed for classic lesbian sex positions. The original clitoral vibrator is right in the middle of this sex toy, Laphwing Moving Castle is over 30cm long and reaches deep into your intimate area, the double layer of silicone is soft and comfortable for quality sex, 7 modes of vibration from soft to wild to meet your different moods, and a remote control allows you to choose the most comfortable mode for both of you without having to stop.
A quality double ended dildo will heat up your love, a vibrating double ended dildo will let you mingle with each other, Laphwing Moving Castle has everything a great vibrating dong should have, and, she also innovates a new addition of a clitoral stimulator, so that if you like clitoral orgasm you have a different choice.
When the gentle foreplay gradually becomes hot, you cross your bodies and slowly insert Laphwing Moving Castle into each other's most intimate parts, the powerful motor drives the double ended dildo vibrating, constantly stimulating your G-spot, when the emotion is intense, you would grab "Castle" to stimulate your C-spot, and find that your partner also grabbed the "Castle", you look at each other and smile, sit up, let Moving Castle hold in place, while stimulating your clitoris, feel each other's love. Now let's have a horny naughty sex.
We recommend this adult sex toy for lesbian couples who prefer the classic position. The traditional double ended dildo allows Lesbian to experience the pleasure of penetration. The Laphwing lesbian sex toy not only adds a vibration mode, but also creatively incorporates a clitoral stimulator that can be used by one partner alone or by two people at the same time. Take action now and experience a quartet of clitoral and G-spot orgasms.
SECRECT PACKAGING: All Laphwing adult toys will be delivered in dedicated sealed discreet boxes without leaving any sensitive words. Please contact Laphwing if you have any problem with this sex toy.