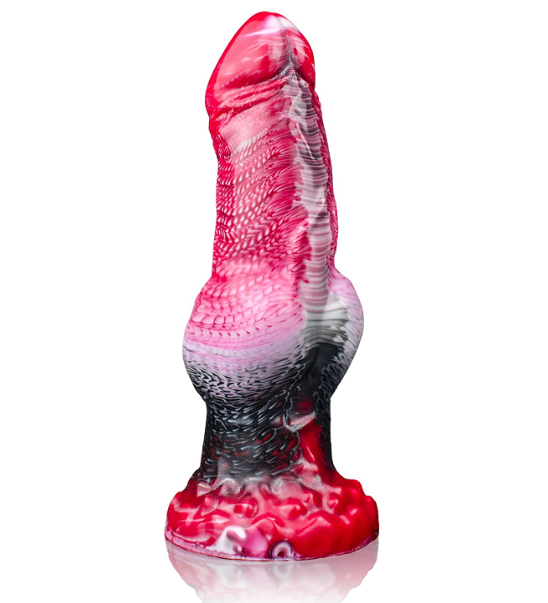 ALL YOU WANT IS A FANTASY DILDO: Don't stop yourself from trying something different! Grab this one-of-a-kind fantasy dildo Sytry Red and bring your wildest imagination to reality. First off, we've used exlusive color mixing craftsmanship to bring you a visual feast. The perfect combination of red, white and black gives an elegant vibe. Plus, the thick glans, bulging veins, flexible shaft, and the unavoidable knot all make it a favorite among all groups of players.
9.06" WOLF DILDO WITH BIG KNOT: Sytyr Red is inspired by the phallus of an adult wolf. Slide the huge dildo in and feel the thick head and raised veins gradually stimulate your sensitive zone, as you make your way down its textured shaft before reaching a challenging, yet seductive knot. Swallow it, feel the fullness that no other realistic dildo can bring, and let it drive you higher and higher until you reach the peak.
12'' STRONG SUCTION CUP & HARNESS COMPATIBLE: The strong suction cup can attach to almost any smooth surfaces for hands-free play, so no position is impossible for Sytyr! Besides, you can also use is in the bathroom, since it's adequately water resistant. Or you can stick it to a chair and start bouncing away while watching your favorite adult movie. It is compatible with a harness as well.
PREMIUM BODY-SAFE SILICONE: Compared with other firm silicone dildo, this wolf dildo is made of 100% waterproof, body-safe soft silicone. You can let it touch and kiss each inch of your skin without worries. The flexible long shaft design allows it to stay in shape at almost any angle, so anywhere you want it to be, it will be there, strong and steadily.
SECRECT PACKAGING: All Laphwing adult toys will be delivered in dedicated sealed discreet boxes without any sensitive words visible. Please contact Laphwing if you have any problem with this sex toy.