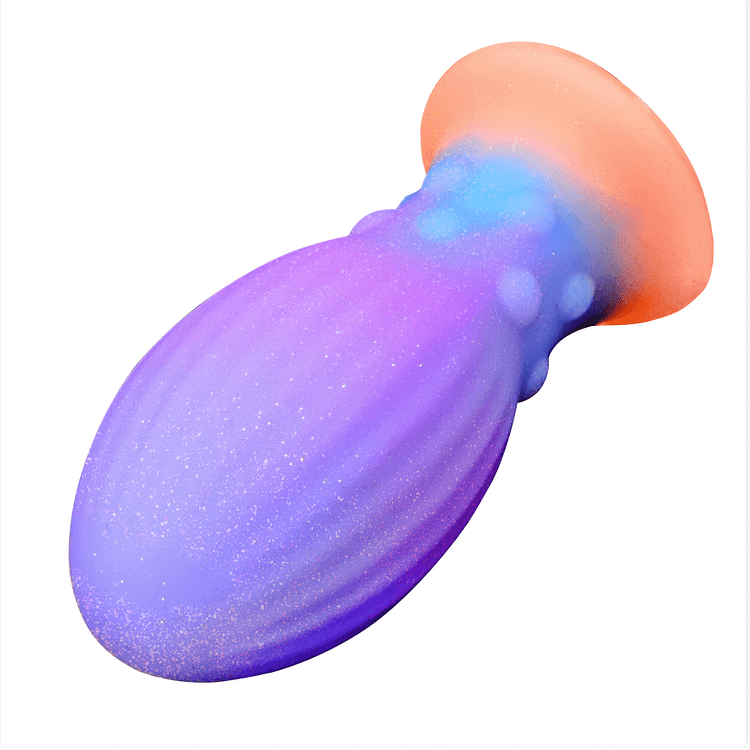 BUTT PLUGS FOR ADVANCE PLAYERS AND BEGINNERS . Trenta size 22.4 ounces, Venti size 9.3 ounces and Grande size 4.9 ounces, these fantasy buttplugs are much bigger than normal metal ones. Unlike the small, hard, and sharp metal plugs to bring nothing or swelling, our flexible silicone anal plug can fullfil and touch the tunnel tight without irritation or pain.
TAPERED SHAPE,COLORFUL & GLITTER POWDER make this butt plug a real piece of art. Tapered tip makes it easy to insert, while the BUMPS on the neck and suction base add more friction and prevent this fantasy butt plug from being swallowed totally. The GLITTER POWDER shines under light to arouse your passion for love. And the glitter powder doesn`t fall off. So feel free to enjoy it.
100% PREMIUM & LUMINOUS SILICONE defines a better anal plug, body-healthy, skin-friendly, odorless, soft, and flexible, making walking and sitting-down with it without irritation nor hurt. Glowing-in-dark plug enriches your sexual life, igniting the window of butt.
FULFILL YOUR EROTIC FANTASIES with this beautiful & reliable buttplug! This reliable plug is the perfect adult sex toy for couples looking for plugs to spice up their sexual life! Hang-out with your friends and our buttplugs is more fantastic and fun.
DISCREET PACKAGING & AFTER-SALE SERVICES make shopping easy. All toys come in neutral packaging. We value the privacy of our clients, all Laphwing products are shipped expressly and confidentially without any trace of suspicious words. We provide effective and efficient customer service within 24 hours.